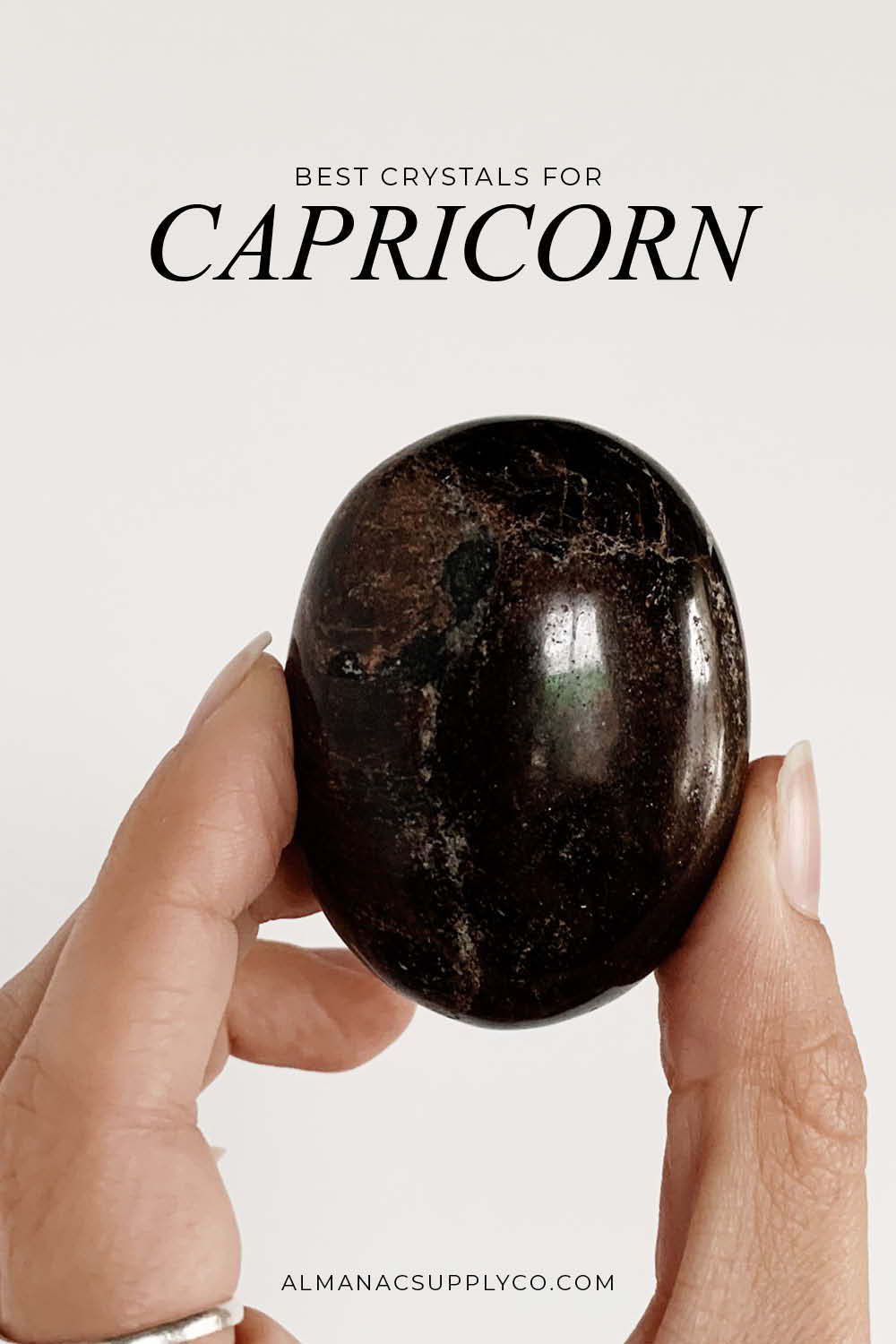 Capricorn season begins on December 22nd right after the Winter Solstice here in the northern hemisphere. This zodiac sign kicks off Winter and influences us until January 19th. Capricorn is known for being practical, ambitious, and disciplined.
Whether you're interested in harnessing some Capricorn energy for yourself or you are a Capricorn Rising or Sun sign, crystals are a great way to intentionally embody the energy of this zodiac season.
CAPRICORN ENERGY + CHARACTERISTICS
Capricorn is a cardinal earth sign, ruled by the planet Saturn and represented by the mythological symbol of the sea goat, a combination of a goat and a fish. This sign is known for being hard-working and loyal, one of the most driven signs of the zodiac.
Aligned with the energy of Saturn, Capricorn season can also help you with any adulting you need to do, making sure you're staying on task and producing your best work. Basically, it can bring you some seriously boss vibes.
And while Capricorn may have a reputation for being extremely serious, this earth sign still knows how to have fun after doing the work. Capricorns can also be very sensitive, emotional, and intuitive, qualities that are associated with its sea goat symbol.
Here are a few Capricorn crystals that can help you manifest the energy of this earth sign for yourself before the season ends on January 19th or any time of year.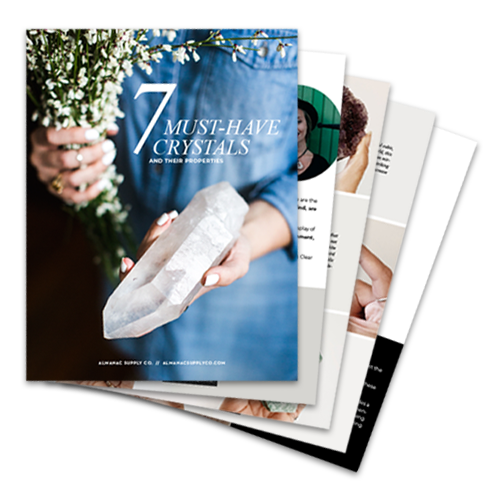 Discover the
Magical World of Crystals
Not sure where to start? Our free eBook will introduce you to 7 crystals to get you started, plus learn their energetic properties as well as the history, legends, and geological information of these must-have stones.
WHAT ARE THE BEST CRYSTALS FOR CAPRICORN?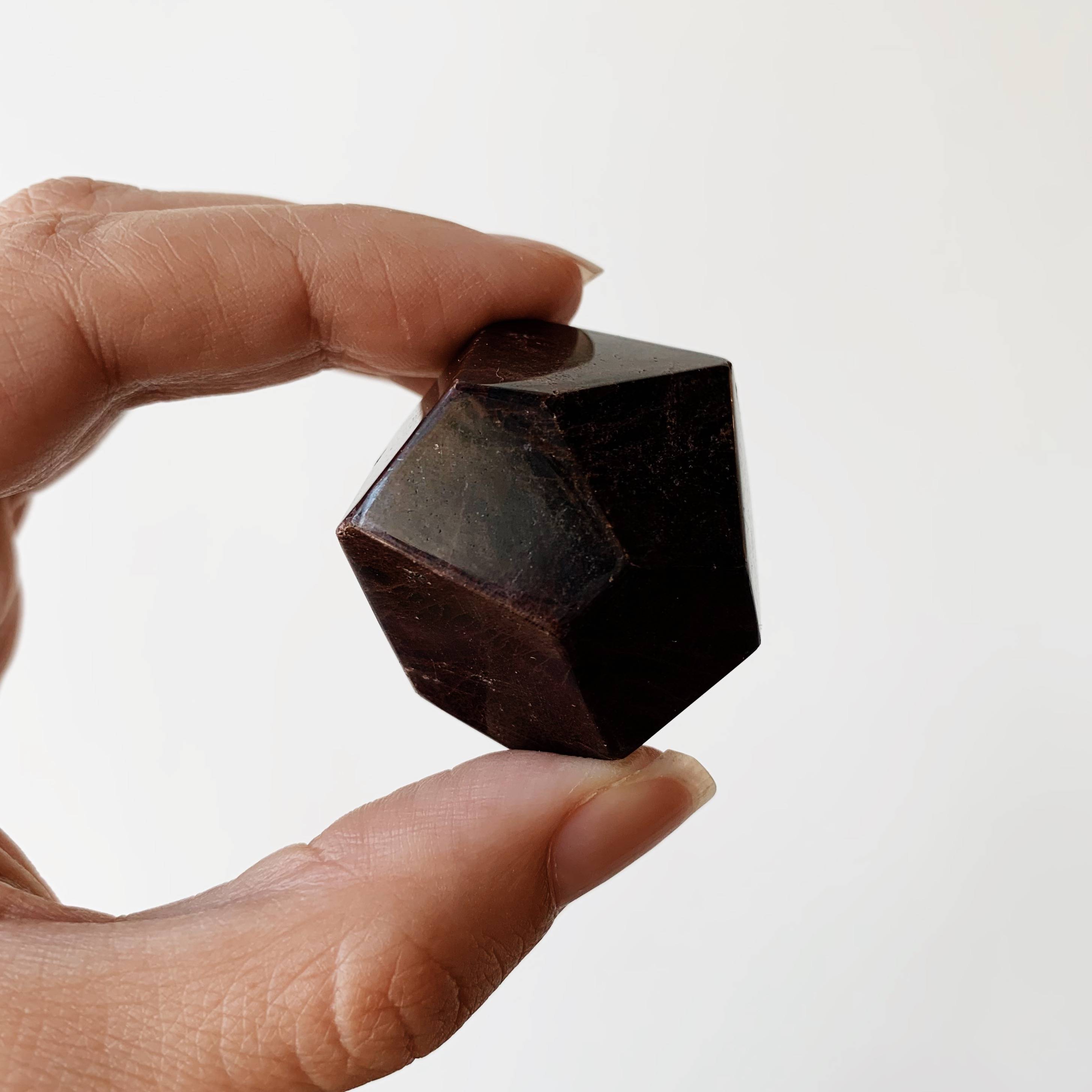 GARNET: A CAPRICORN BIRTHSTONE
Prosperity, Manifestation
CHARACTERISTICS + HISTORY OF Garnet
Garnets are a diverse group of stones taking many different forms and colors, although this stone is most known for being a red gemstone. This deep red color is also reflected in the name which was derived from the Latin word "granatum", meaning pomegranate.
Popular in many ancient cultures dating back over four thousand years ago, Garnet has been used in jewelry and in healing applications for much of human history, even appearing in the story of Noah's ark as a light source. Garnet has been used for everything from ornamental objects by the Aztecs to dispelling melancholy in the Middle Ages.
This Capricorn crystal is thought to bring warmth to the body and stir up energy, which is perfect for the beginning of the cold Winter season. Garnets are also said to attract the energy of Capricorn's ruling planet Saturn to help balance the mind, emotions, and body and may help in finding more overall alignment.
If you are looking to harness some of Capricorn's discipline, this stone might be your perfect match as it may help summon inspiration and excitement into even your simplest tasks.
The downside of having such a driven and hard-working energy is the tendency to slip into being a workaholic. Garnet may aid in removing old patterns that no longer serve you and help to balance any feelings of self-doubt or inadequacy that are leading to working far too hard. Wearing garnet may open the way to abundance, vitality, and confidence in your path forward.
Shop Crystals For Capricorn - Garnet
LABRADORITE: Enhance Intuition
CHARACTERISTICS + HISTORY OF Labradorite
This stone is named after the Labrador peninsula in Canada, the region where it was "discovered" in 1770. However, it is now found in many other countries including Finland, Norway, and Mexico. Its use in jewelry increased in popularity in the nineteenth century when deposits were discovered in Russia.
Labradorite is a feldspar mineral and has a dull, dark blue-green appearance. But when this stone is turned in the light, it exhibits flashy colors of blue, green, gold and more! This phenomenon is known as labradorescence, a type of iridescence.
Because Capricorns are known for their pragmatic approach to life, Labradorite can help to remind them to look at situations from every angle to see the hidden truths and treasures of each experience.
Labradorite can aid Capricorn in tapping into their intuition bringing them flashes of wisdom and insight to solve problems, as well as helping them turn inwards to balance this sense of commitment to their work with their overall purpose.
In their ambition and hard work, Capricorns can fall into the trap of being too hard on themselves. Labradorite is a stone of transformation and can help bring awareness to and transmute your anxieties, negative self-talk, and the stories you are telling yourself about any mistakes or regrets you may have.
SHOP CRYSTALS FOR CAPRICORN - LABRADORITE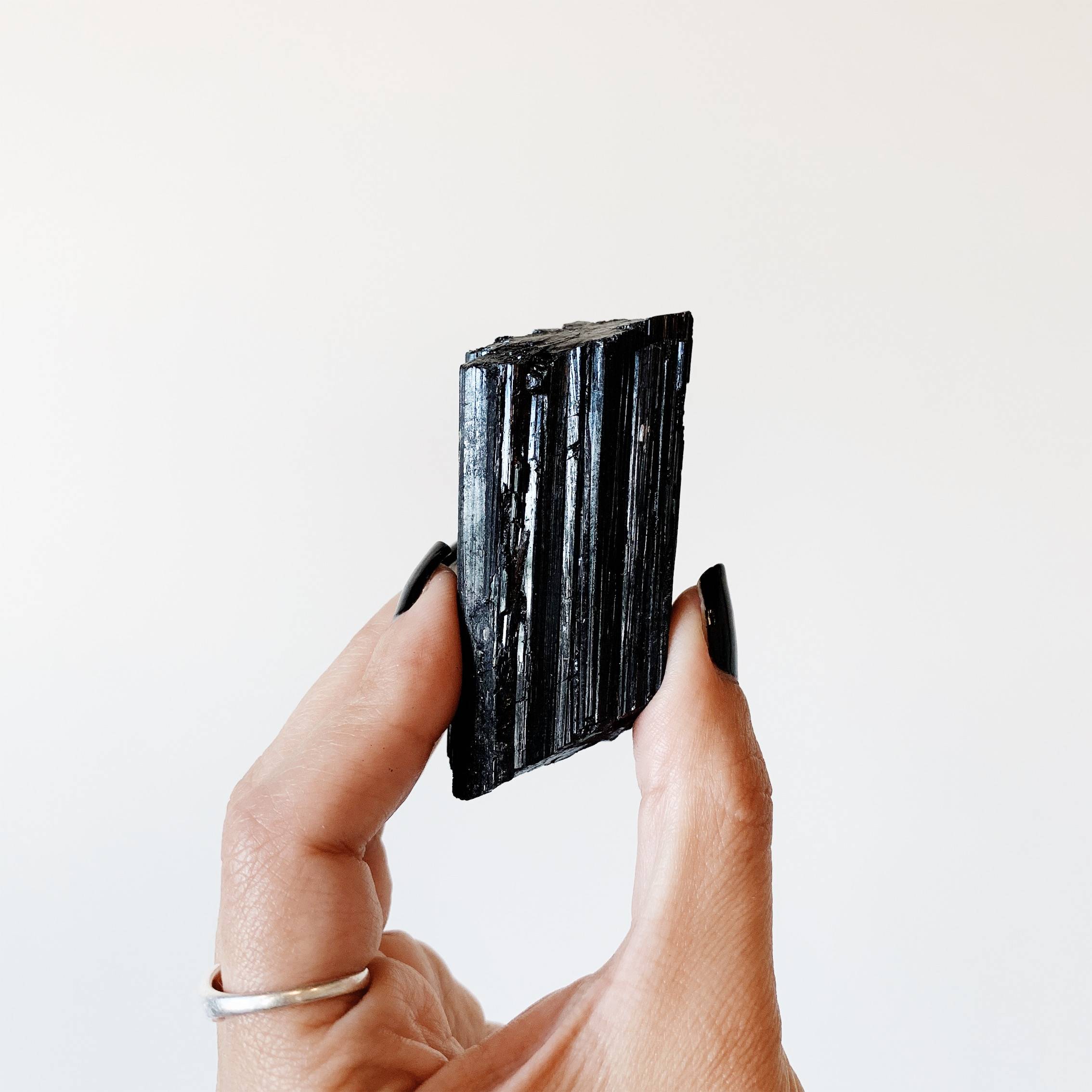 BLACK TOURMALINE: FOR GROUNDING ENERGY
Grounding, Protection, Luck
CHARACTERISTICS + HISTORY OF Black Tourmaline
Black Tourmaline, also known as Schorl, is composed of a complex chemical formula that creates the crystal's pointed terminations. The iron in its makeup is responsible for its inky black color. Black Tourmaline is piezoelectric and will create a different electrical charge at each end of the stone when pressure or heat is applied to it.
Due to these electrical and magnetic properties, Black Tourmaline was used in experiments by Benjamin Franklin and has been found to convey an electric current no matter how small it is ground or crushed.
This stone has been used for centuries as a talisman for protection against negativity, from bad vibes to curses. Some say to rub Black Tourmaline for luck and happiness. You can also use it to create a protection crystal grid to guard your home by burying a piece in the 4 corners of your yard, or placing a piece in the 4 corners of your house.
HOW TO USE Black Tourmaline
Black Tourmaline can be extremely helpful to Capricorn because it is thought to purify negative energies from your surrounding or within yourself. It may aid in clearing negative or cluttered thoughts so that you may gain focus on what's important and get to work on your goals. This is another stone that can be used when wanting to let go of thoughts, patterns, or energies that are no longer serving you.
Potentially the most grounding stone of the Capricorn crystals, this Capricorn crystal resonates with the Root Chakra. This energy matches the natural traits of the zodiac sign and aids in easing any stress, eliminating any anxieties, and improving self-confidence.
Shop Crystals For Capricorn - Black Tourmaline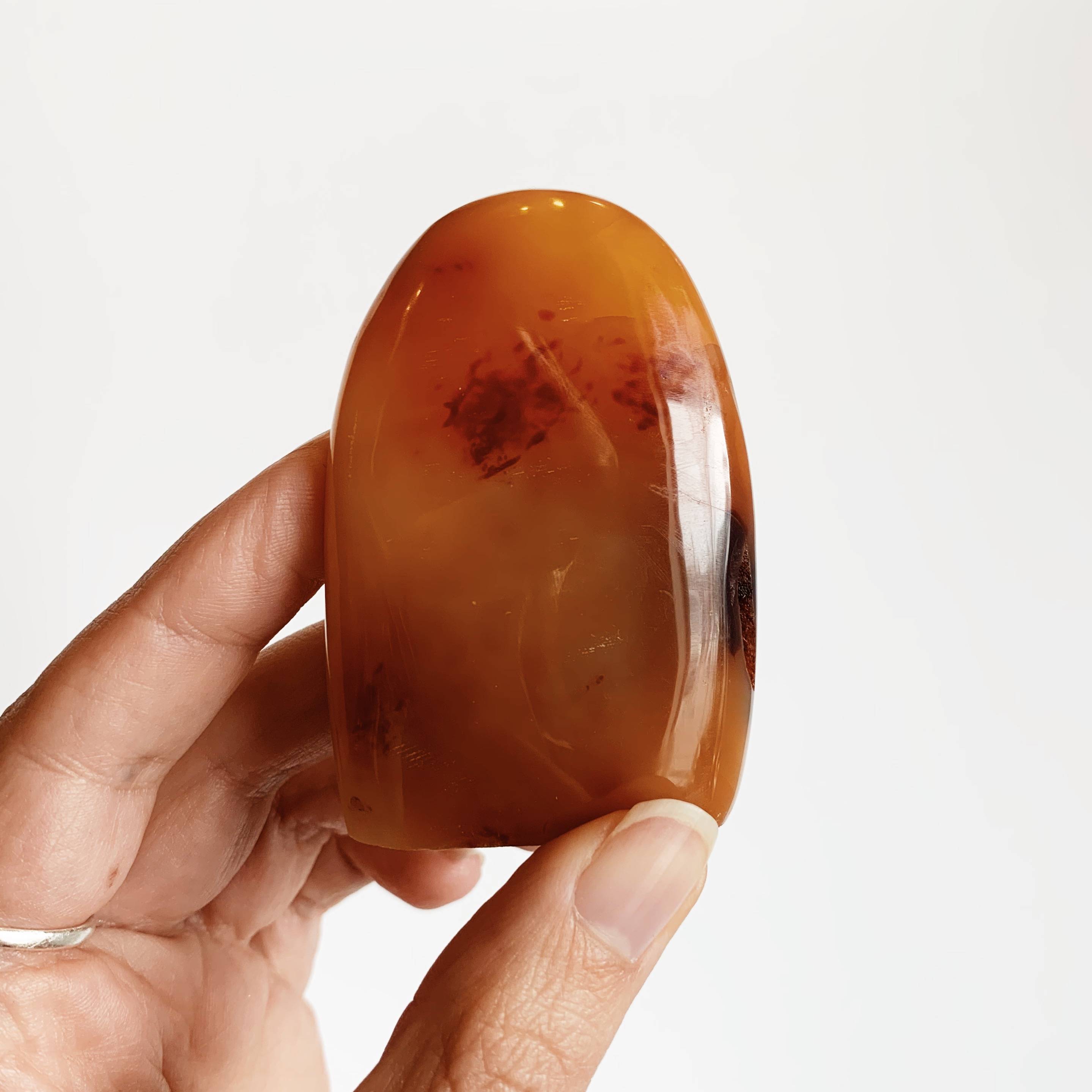 CARNELIAN: FOR MOTIVATION
Courage, Creativity, Action
CHARACTERISTICS + HISTORY OF Carnelian
Once believed to protect warriors on the battlefield and houses from storms or intrusion, Carnelian brings about the fiery energy that its bold orange and red colors indicate: courage, protection, and fearlessness. This stone is a variety of Chalcedony and is part of the Quartz family. Carnelian is also known by a few nicknames including the "Artist's Stone" and the "Singer's Stone."
From the Egyptians to the Romans, many ancient civilizations were fond of using this crystal in their jewelry. Not only polished and set in gold but because Carnelian is a hard stone and can be carved, it was used to create personal emblems or figures of gods.
Whether you're slaying dragons, making art, or speaking in public, Carnelian is here to help you embrace who you are and express it, loud and proud. This Capricorn crystal is here to give you the courage to make things happen. With its positive and motivating energy, it is the perfect stone to support Capricorn's determined will.
It may be well known for its ability to elicit courage, but Carnelian also resonates with the three lower Chakras. With the energy of the Root Chakra, Sacral Chakra, and Solar Plexus Chakra, this Capricorn crystal also has the ability to calm, ground, and protect.
This makes it a powerful stone for taking control of the direction of your goals and destiny, whether you need to make a leap and redirect your path toward a whole new direction or you just need a little extra motivation to complete a goal.
Choosing to work with Carnelian can help you embrace the energy of Capricorn by aiding you in stepping out of uncertainty or fear, and allowing you to let go, and lean into your own willpower.
SHOP CRYSTALS FOR CAPRICORN - Carnelian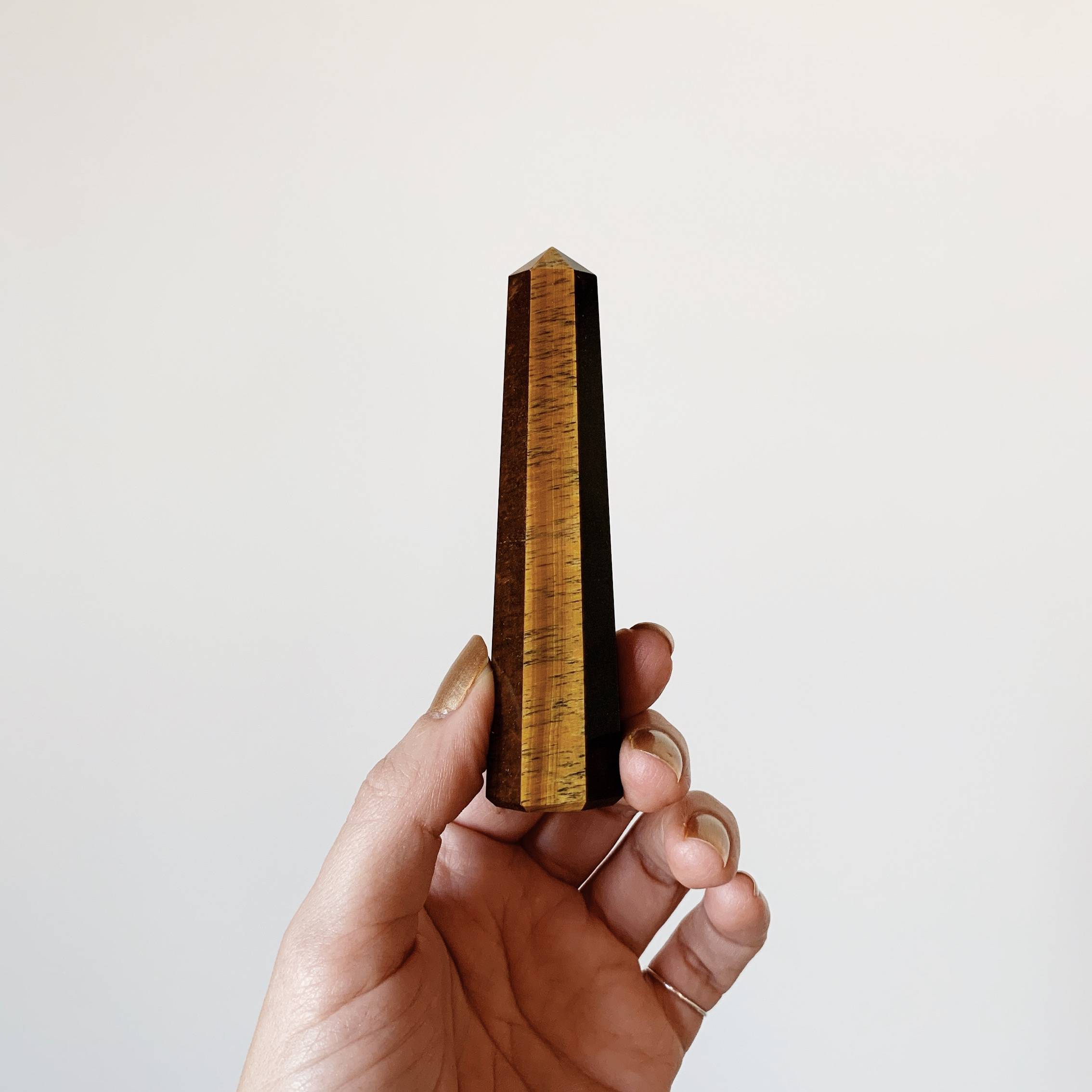 Confidence, Strength, Luck
CHARACTERISTICS + HISTORY OF Tiger Eye
While Tiger Eye is commonly yellowish-brown in color, the stone also comes in varieties of blue and red. A favorite for its cat's eye appearance - known as chatoyancy, from the French word for "cat" - Tiger Eye features beautiful striations of brown and gold, seemingly bringing together the essences of Sun and Earth and balancing light with dark.
Each colorful variety of Tiger Eye is associated with a different chakra and the colors vary based on the way the mineral crocidolite has been layered in the stone's formation.
Tiger Eye has been a popular stone for thousands of years and has been used in jewelry by the Greeks and found in tombs in the location of the ancient city of Mesopotamia. Long used as a talisman of luck, it's believed that Tiger Eye allows the wearer to see everything, as an all-seeing, all-knowing eye.
This stone is a great compliment to Capricorn's nature. It is a stone of mental clarity and will help to sharpen Capricorn's logic and promote their steadfast will. Tiger Eye is thought to help direct energy toward your goals and support clear decision-making. This stone can also help in finding the strength to accept change and becoming more adaptable.
This stone is thought to help balance extremes. For Capricorn, this means working with Tiger Eye to help balance their duality of practicality and emotionality could guide them toward finding more success.
In general, Tiger Eye is a stone of luck and manifestation. Thought to be especially powerful for Capricorns because it can aid not only in attracting wealth but also in keeping it secure. As these are characteristics that come naturally to Capricorns, working with a stone of abundance like Tiger Eye will only further enhance their ability to make smart money moves.
SHOP CRYSTALS FOR CAPRICORN - Tiger Eye
If these crystals for Capricorn have inspired you to learn more about crystal healing or just pick up some stones to embrace the season, you'll be sure to enjoy these articles as well.
Sign up to get new articles,
crystal live sales, and more!

Corinne is a creative and content creator who likes to stay curious about life. Her favorite season is Summer, when she can take up more outdoor adventures from hiking to motorcycle rides.