A Perfectly Scented Seasonal CandlE
Delivered to Your doorstep
Set the mood, live with the seasons, and curate a home that helps you flow with ease.


Enjoy monthly seasonal candles.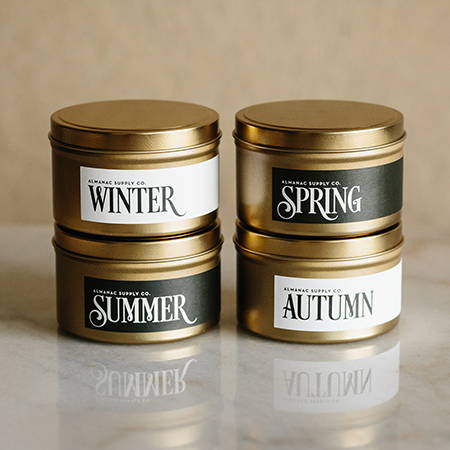 7 oz candle tin subscription box
A 7oz Seasonal Candle Tin delivered to your mailbox every month.
per month, incl. U.S. shipping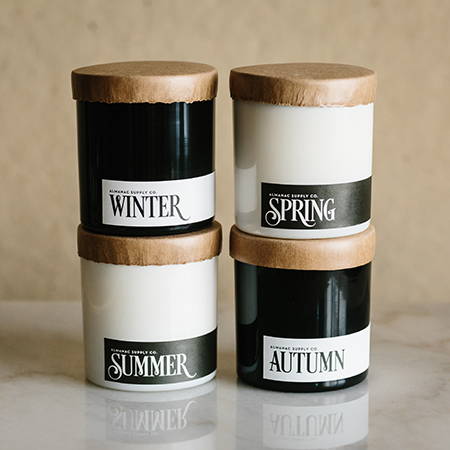 10 oz candle Jar subscription box
A 10oz Seasonal Candle Jar delivered to your mailbox every month.
per month, incl. U.S. shipping
Seasonal Candle subscription box
Shipping Schedule
Winter candles are shipped December 15 - March 14.
Spring candles are shipped March 15 - June 14.
Summer candles are shipped June 15 - September 14.
Autumn candles are shipped September 15 - December 14.
Customers love our candles!
"Smells so good!! Really, all of your candles do... it's hard to pick a favorite!"
"I've been on the hunt for a 'signature home scent' for years and finally found it thanks to you."
"This [Autumn candle] is the greatest thing I've ever smelled... seriously I could bathe in it... AND it has a cute little crystal inside."
"The aroma of [the Winter] candle is amazing! I've been burning mine every night since the solstice. Love your candles!"
"OBSESSED with [Autumn] - bought a second candle within 48 hours of lighting the first one I had ordered!"
"OMG this [Summer] candle is delish!"
What's Different About
Our
Candle Subscriptions?

Batch tracked with moon phase and zodiac sign

Hand poured vegan soy wax in Chattanooga, TN

High-quality blend of essential and fragrance oils

Topped with crystals aligned with the spirit of the season
Seasonal Candles Delivered To Your Door
You can end your search for the best candle subscription boxes – we've got the right candle for every season. Our candle subscription box is designed to fill your home with your favorite seasonal fragrances each month. Choose from our 7oz metal tins or 10oz glass jars for your candle subscription. Then sit back and relax while you enjoy journeying deeper into the current season with a crystal topped, seasonal candle.
Each month you'll receive one of our small batch soy candles. We hand-pour our candles in our maker studio in Chattanooga, TN, using vegan soy and high-quality essential and fragrance oils. Each scented candle comes topped with seasonally-aligned crystals and each batch is tracked with the moon phase and zodiac sign.
We make every effort to be as eco-friendly, from using vegan soy wax to our labels made with recycled paper. Our goal is to protect our environment and customers from any toxic chemicals, pollutants, or unnecessary waste. Our candles are phthalate free and meet or exceed the highest industry standards. We strive to create, sell, and promote goods made in the USA with a focus on local makers and products.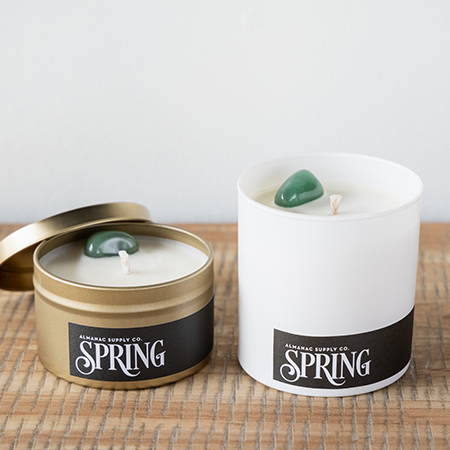 Prepare for the season of growth with scents of blossoming flowers & agave, topped with green aventurine.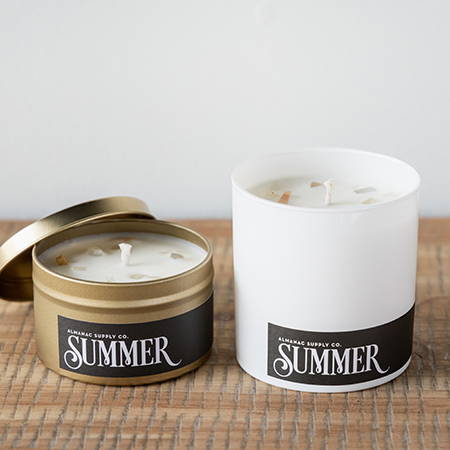 Settle into the season with a floral and sea salt scent profile, topped with moonstone.
Call in the earthy, amber scent of Autumn, topped with citrine to attract the abundance of the season.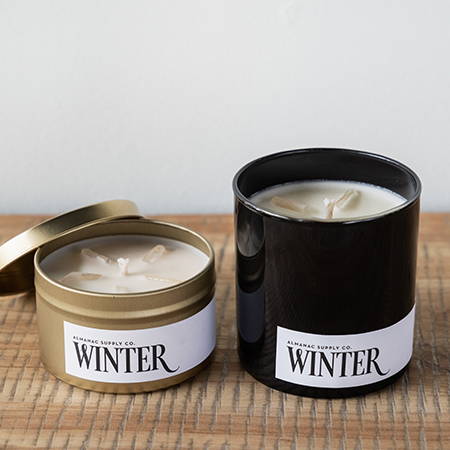 Cozy up with evergreen scents accentuated with notes of cypress and smoke, topped with quartz points.
Our Candle Subscription Boxes
Make the Perfect Gift
Have a nature or candle lover in your life? Gift them a seasonal scent in a hand-poured soy candle. When they receive their monthly candle subscription box, they are sure to be reminded of you! With options starting below $20 a box when you pre-pay, it is the perfect gift for someone special or for yourself!
Frequently Asked Questions
Will my subscription auto-renew?
If you purchase a Monthly Subscription, your subscription will auto-renew every 30 days, unless otherwise notified. If you purchase a 3, 6, or 12 Month Pre-Paid Subscription, your subscription will not auto-renew after your first payment.
What if I don't live in the U.S.?
Please contact us by email at hello@almanacsupplyco.com if you'd like to subscribe but don't live in the United States. We'll discuss options and shipping rates.
When will I receive my first shipment?
All candle subscription boxes ship within 2 business days of payment.
How do I gift a subscription to a friend?
You're welcome to either gift a recurring monthly subscription (that you can cancel at any time) or pre-pay for 3, 6, or 12 months as a one-time payment.
At checkout, just enter your recipient's name and address under the shipping information, and we'll be sure to send it along!
If you have a special note to send in your first box, email us at hello@almanacsupplyco.com
Can I choose which candles I receive?
No. We've created these boxes to ensure you have the appropriate candle for each season (ex: Spring candle during Spring months, etc). If you'd like a candle that's different from the current season, visit our candle shop page and choose whichever candle you'd prefer as a one-time purchase.
How often will I receive a new box?
Our Candle Subscription boxes are a monthly subscription. If you purchase the monthly subscription, we will mail out each box within 2 business days of each processed payment. Pre-paid subscriptions are mailed out each month according to the date of your original purchase.
Will I be notified when my next payment is processed?
Yes! You will receive a receipt via email for each payment.
What is your cancellation policy?
If you cancel before your next payment, you will not be billed and you will not receive the next box. If you cancel after your next unfulfilled payment, you will receive that box and none after. Candle subscriptions are non-exchangeable and non-refundable.
3, 6, and 12 Month Pre-Paid subscriptions are non-refundable. Once purchased, you will receive the candles you've purchased, delivered monthly for the number of months purchased.
How do I cancel my monthly subscription?
You are welcome to cancel your auto-renew monthly subscription at any time using your member account:
Log into your account.
Click "Manage Subscriptions" on the left-side menu.
Click "Cancel" next to the subscription you would like to cancel.
Or feel free to email us at hello@almanacsupplyco.com.
Not ready for a monthly candle subscription?

Find your perfect scent below and shop all of our candles.