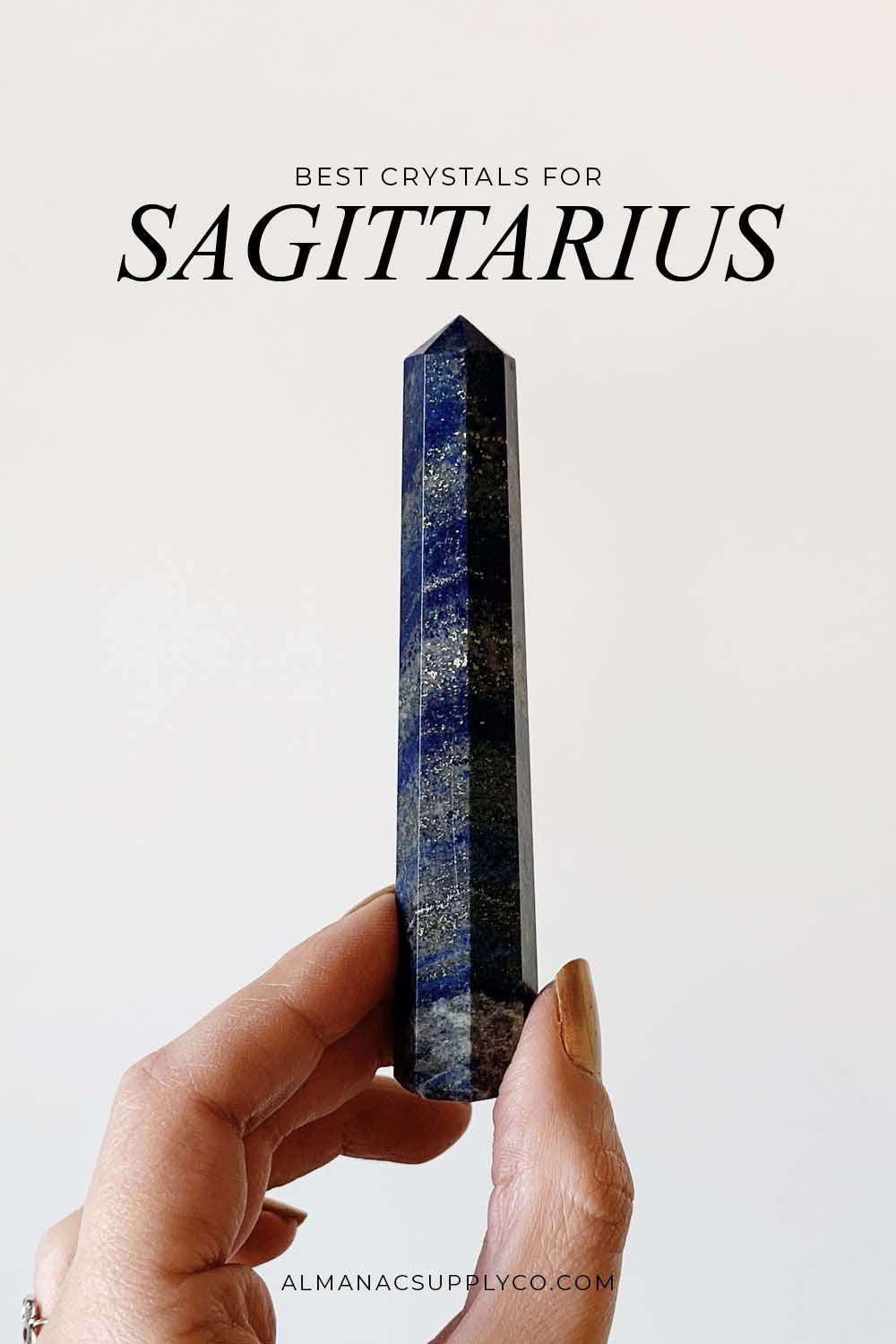 It's time to step into Sagittarius season! Starting on November 22, Sagittarius arrives just in time for the beginning of the holiday season. Embracing the energy of this sign can be helpful as you navigate festivities, social gatherings, and time with family.
Crystals are a great way to intentionally embody the energy of this zodiac season whether you're interested in harnessing some Sagittarius energy for yourself or you are a Sagittarius Rising or Sun sign.
SAGITTARIUS ENERGY + CHARACTERISTICS
Sagittarius is a mutable fire sign, ruled by the planet Jupiter and represented by the symbol of the centaur or archer. This sign is known as a free spirit with a love for life, independence, and adventure. Others might feel a bit of chaos in the way that Sagittarius approaches things. They can be unfiltered, fiery, and passionate but also grow bored easily and move on quickly.
Likely to be the life of any party, Sagittarius is friendly, spontaneous, and full of optimism. Sagittarius is also known for seeking the truth in any situation, defending what they believe to be true, and speaking their mind rather directly or bluntly.
Here are a few stones that can help you manifest the energy of Sagittarius for yourself before the season ends on December 21.
WHAT ARE THE BEST CRYSTALS FOR SAGITTARIUS?
TANZANITE: A SAGITTARIUS BIRTHSTONE
Healing, Intuition, Compassion
CHARACTERISTICS + HISTORY OF TANZANITE
This brilliant blue or blue-violet crystal first found in 1967 is rarer than a diamond. Tanzanite is only found in an area of approximately 3 square miles at the foot of Mount Kilimanjaro. Scientists believe it is highly unlikely that they will ever be found elsewhere due to the extraordinary geological circumstances that led to their formation. A Trichroic crystal, Tanzanite can appear as any of three colors depending on the angle from which it is viewed.

Tanzanite is one of the birthstones for December along with Turquoise and Blue Topaz. It came onto the market with the help of Tiffany & Co. who promoted it heavily after it was first unearthed, recognizing its potential for popularity.
Tanzanite is believed to both transform and energize those who work with it. This might be due to the fact that this stone has the ability to stimulate multiple chakras including the Heart, Throat, Third Eye, and Crown. For those looking to embrace Sagittarius' ability to say what is on their mind, Tanzanite can aid in speaking your heart's truth with ease and eloquence.

SHOP CRYSTALS FOR SAGITTARIUS - TANZANITE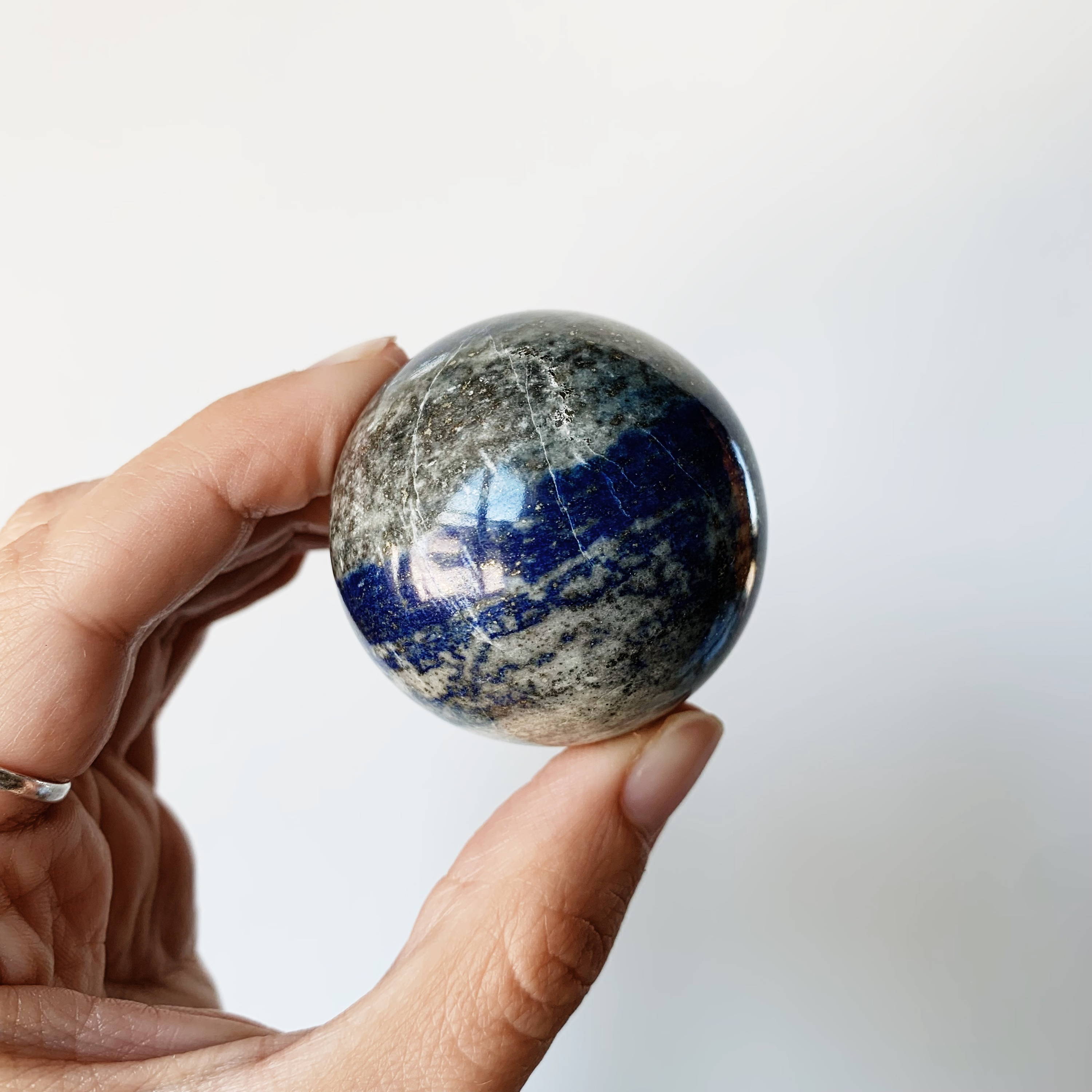 LAPIS LAZULI: THROAT CHAKRA SUPPORT
CHARACTERISTICS + HISTORY OF LAPIS LAZULI
Thought to be the stone of royalty not only for its use by the ancient Egyptian pharaohs, Middle Eastern royalty, and European nobility but because Lapis Lazuli is believed to bring out the inner "king" or "queen" in all of us by connecting us with our higher consciousness.
Lapis Lazuli has a long history of prominence and importance, with its use dating back to over 5000 years ago. It's been used as ornaments and decoration, powdered for medicine and eye makeup, and even thought to cure various illnesses. Meaning 'blue stone' in Latin, Lapis Lazuli has inclusions of Pyrite and White Calcite.
Lapis Lazuli is known to activate the throat chakra. While Sagittarius energy encourages you to seek and speak what you believe to be true, it lacks any filter leading to overly direct delivery of your thoughts. Lapis Lazuli can energize and balance the throat chakra to encourage self-awareness allowing you to clarify your messages, and overcome issues with communication, or any obstacles with connections in relationships.
This excellent stone can also come to your aid on any inner journey and give you confidence while seeking out the truth that you need. This Sagittarian crystal is also believed to enhance creativity and learning abilities. Lapis Lazuli may also inspire you to step into the confidence of Sagittarius to feel self-assured.
SHOP CRYSTALS FOR SAGITTARIUS - LAPIS LAZULI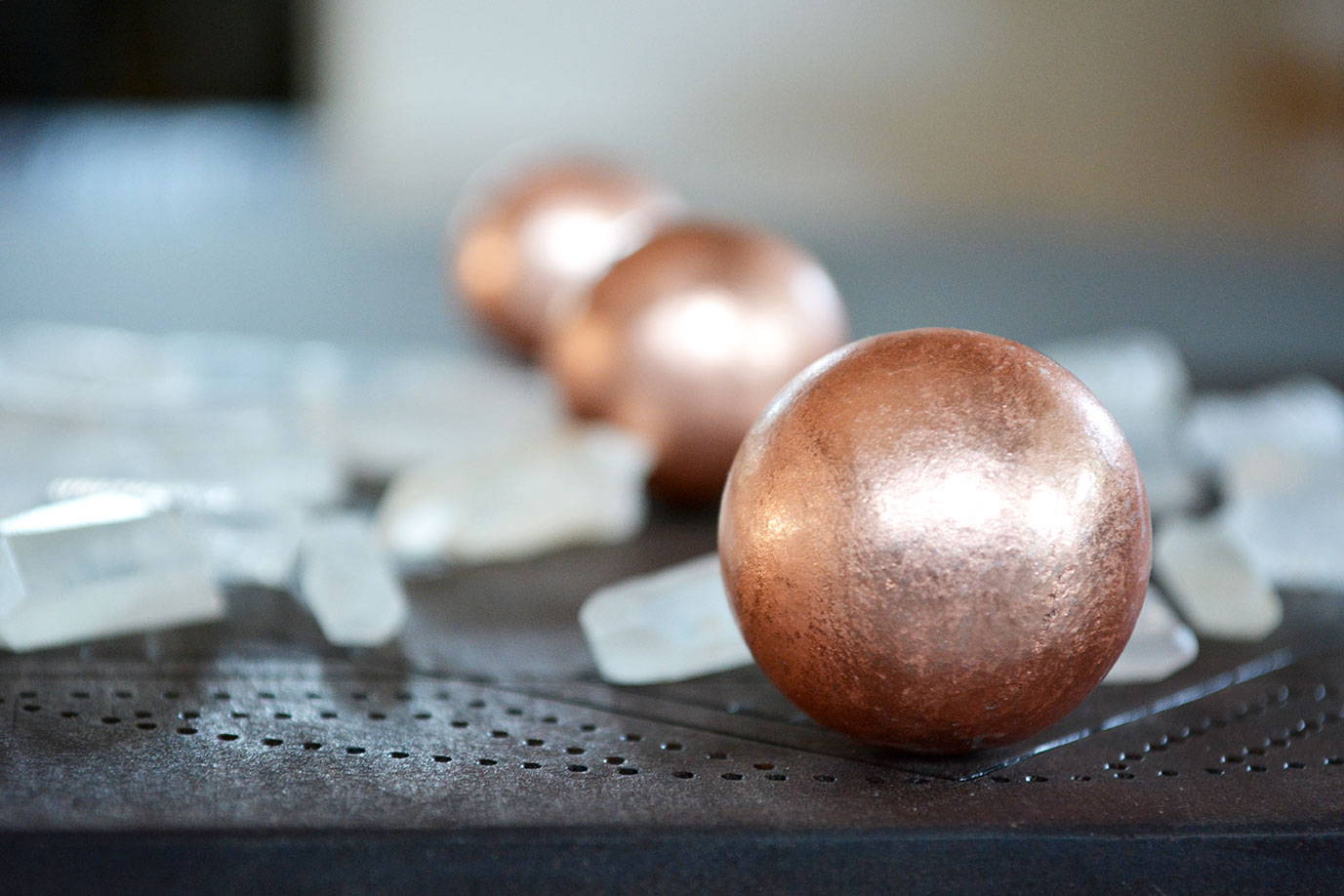 COPPER: HEALING ENERGIES FOR SAGITTARIUS
Stimulate, Healing, Balance
CHARACTERISTICS + HISTORY OF COPPER
Belonging to the same family of metals as Gold and Silver, Copper has long been considered a valuable resource used to signify wealth, heal physical ailments, and advance technology. Because Copper is known to be a great conductor of heat and energy, it is said to also be a conductor of energy in spiritual practices. It is also used to support your body's natural healing, including stimulating blood flow and alleviating joint pain.
Because copper is a soft metal and easy to extract from other minerals, it was used to make domestic items, spearheads, and other weapons. There is evidence of early copper use in China, the Andes, Central America, and West Africa dating back as far as four thousand years ago.
While Copper is a metal and not a crystal, it is said to possess high healing vibrations. Because of this Copper is great for all zodiac signs and works well in conjunction with several crystals. For Sagittarians specifically, Copper is important for grounding and tuning into the root chakra when they are looking for some more permanence in their lives.
Copper can be worn or carried to help boost your energy, help you find balance, and bring about healing energy. It is thought to aid in balancing and opening the lower chakras as well.
SHOP CRYSTALS FOR SAGITTARIUS - COPPER
CITRINE: FOR THE POSITIVE ENERGY OF SAGITTARIUS
Creativity, Manifestation, Energy
CHARACTERISTICS + HISTORY OF Citrine
Citrine derives its name from the French word 'citron,' meaning 'lemon,' a nod to its yellow coloring. This crystal, a variety of Quartz, has a long history. Records indicate it was used in Greecian dating practices as early as 300 B.C. It was also sought after by the ancient Romans and Egyptians for use in jewelry and as talismans.
Natural Citrine is a pale, golden-yellow color due to trace amounts of iron embedded within it. And while Quartz is a more common mineral, Citrine in its natural form is extremely rare. Most of the pieces of Citrine you'll find are, in fact, heat-treated Amethyst. You can tell the difference between the two by the darker yellow to the orange color of the heat-treated specimens.
Citrine's warm yellow hue is a great representation of Sagittarius's fire element and zeal for life. It is the perfect stone to work with if you are looking to match the optimism and joy that Sagittarius often radiates. This Sagittarius crystal aids in elevating the natural tendencies of this sun sign from optimism and confidence to passion and positivity.
Citrine is thought to promote creativity, motivation, and abundance, so this crystal may also help you in finding the energy for your next big adventure, whether you are embodying the wanderlust of Sagittarius or just want to pursue a big goal.
SHOP CRYSTALS FOR SAGITTARIUS - CITRINE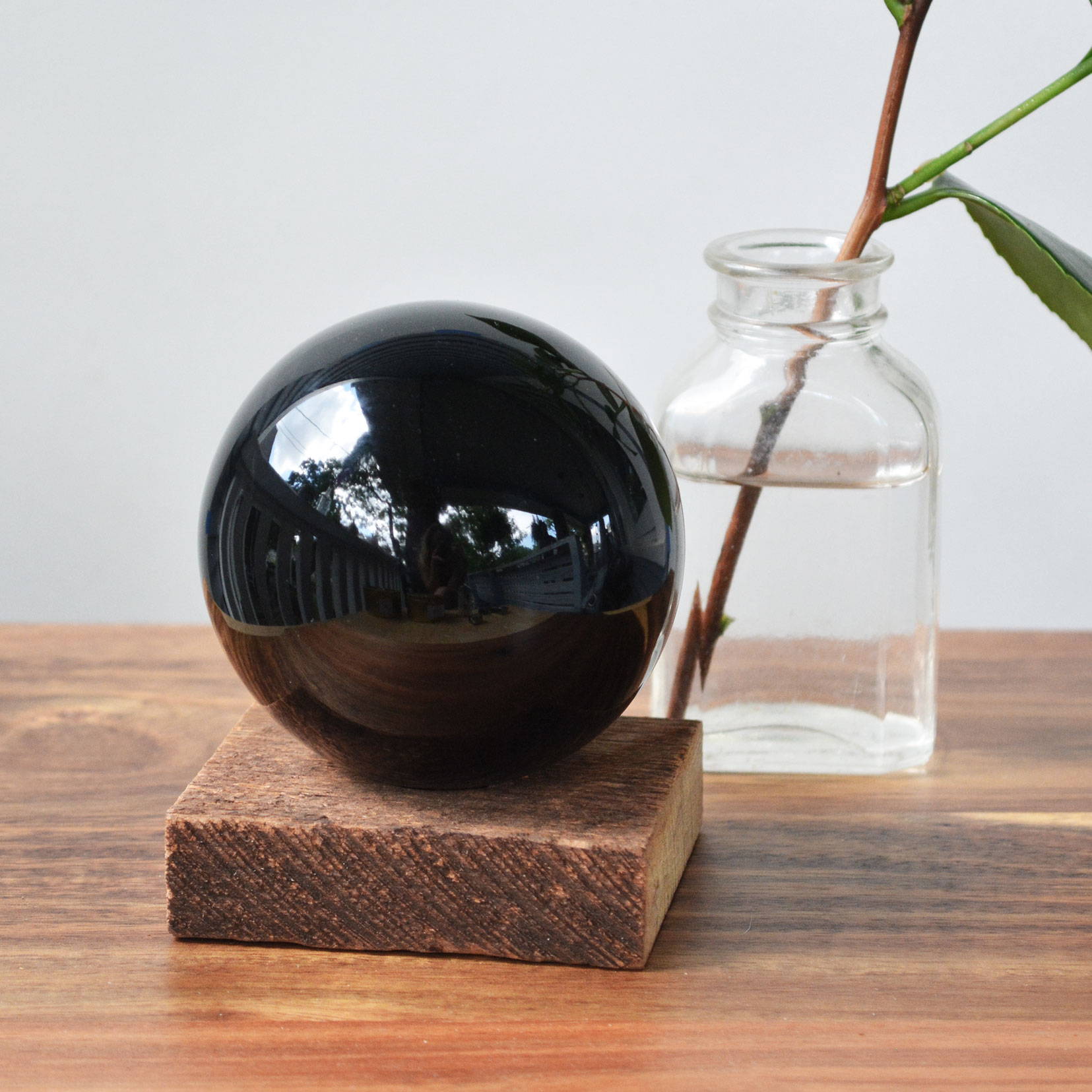 BLACK OBSIDIAN: GROUNDING STONE FOR SAGITTARIUS
Protection, Grounding, Cleansing
CHARACTERISTICS + HISTORY OF BLACK OBSIDIAN
Named for Obsidius, a Roman explorer who "discovered" the stone in Ethiopia, Obsidian is a glassy, volcanic rock that is easily broken and shaped, making it ideal for making tools, which was done by humans for hundreds of thousands of years all over the world.
HOW TO USE BLACK OBSIDIAN
This stone is a popular protective stone as it will guard against negative energy in your environment. This comes in handy for Sagittarius as they love to travel and never shy away from an adventure. Carrying Obsidian can help to shield against any external negativity and offer additional protection in new and unfamiliar environments.
It can also help protect Sagittarius from any negative energy from within. Obsidian is a powerful stone for grounding and invites self-discovery. With its mirror-like quality, Obsidian can be used to increase self-awareness of unwanted traits or behaviors. This can be particularly helpful for Sagittarius with their over-top energy and tendency for self-importance, in finding calming and grounding energies.
SHOP CRYSTALS FOR SAGITTARIUS - OBSIDIAN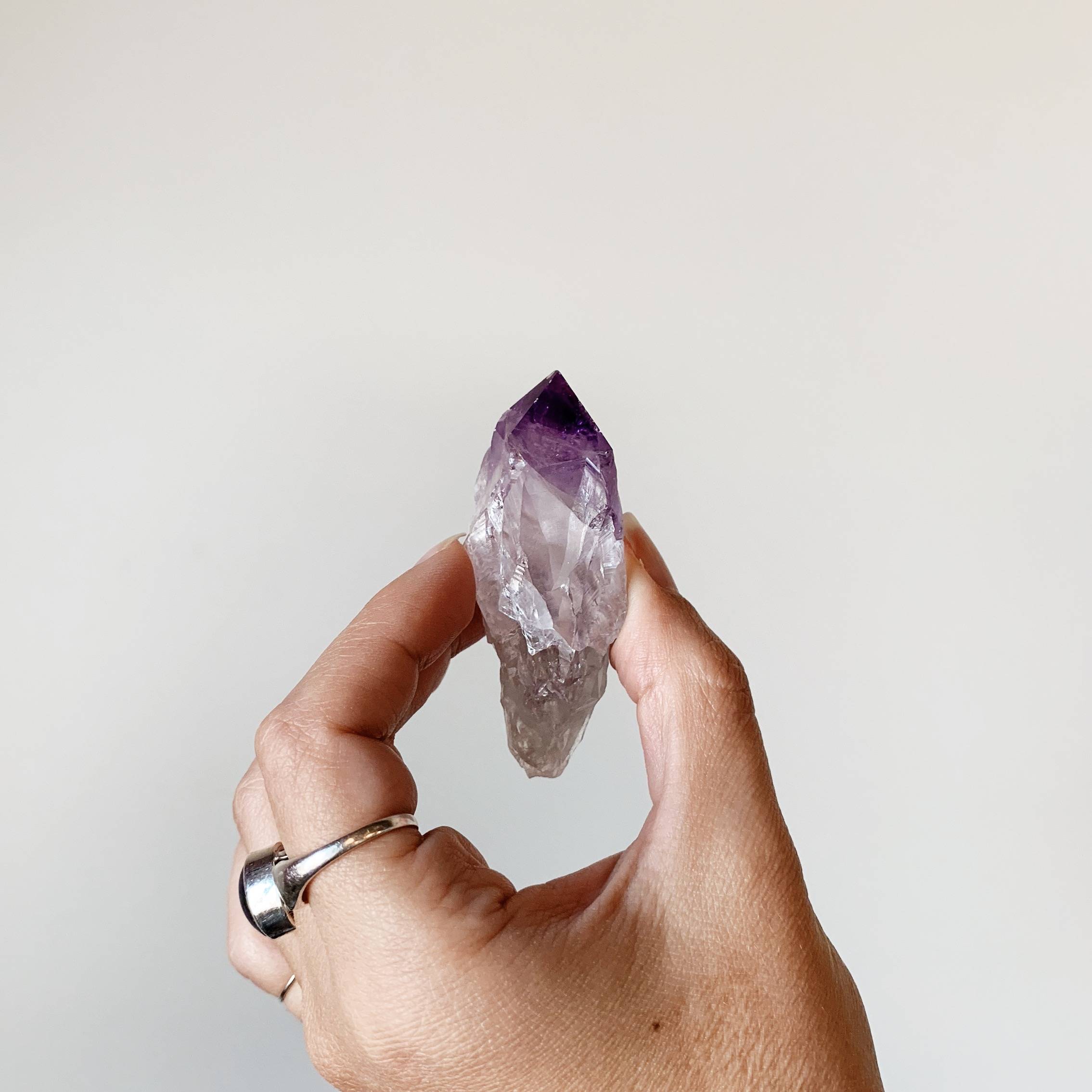 AMETHYST: INTUITION STONE FOR SAGITTARIUS
Intuition, Peace, Strength
CHARACTERISTICS + HISTORY OF AMETHYST
A member of the Quartz family, Amethyst occurs in a variety of shades and shapes. It can be found in many shades ranging from deep purple to pale lilac. Deriving its color from different amounts of iron and aluminum.
Its beauty has made Amethyst a popular stone and a prized piece of many rock collections. The use of Amethyst crystals, for their beauty and energy, dates back to as early as 25,000 BCE. Found in the cultures of Neolithic peoples, ancient Egyptians, Early Greeks, and Romans, it has long been coveted as a stone of royalty. To add some fun, Amethyst's name comes from the Greek word for "not drunken," as its believed to prevent intoxication, calm anger, and relieve stress.
Providing support for the energies of the Third Eye and Crown chakras, Amethyst makes a great crystal for Sagittarius. It helps this sun sign get out of their head and connect to with their intuition on a spiritual level.
Amethyst can have a very calming effect on Sagittarius, helping them to relax when they are ready to fly off to the next best thing. This stone can aid in practicing stillness and soothing any anxious thoughts.
SHOP CRYSTALS FOR SAGITTARIUS - AMETHYST
If you are interested in more healing crystals or just owning crystals and stones to embrace the season, you'll be sure to enjoy these articles as well.

Corinne is a creative and content creator who likes to stay curious about life. Her favorite season is Summer, when she can take up more outdoor adventures from hiking to motorcycle rides.